From the dance floor to the balcony
During one of my meetings today we were discussing the calendar for the 2021/2022 school year, and a focal point of the year will be our Council of International School Team Visit, part of our accreditation. If you are a member of our community you would have received information about UWCD being awarded candidacy status for the accreditation process. Perhaps you wondered why the school is engaged in this process?
Allow me to travel back in time. I was fortunate enough to be invited to the opening ceremony of UWC Dilijan in October 2014 and came with a colleague to represent the then-new Head of UWC South East Asia, Chris Edwards, who could not make it. It was a whirlwind weekend of celebrations in Yerevan and in Dilijan, and I remember that, on the drive back to my hotel in Yerevan after the opening ceremony on campus, I thought about the vision behind building a UWC school in Dilijan, a rara avis in the region being the first residential school in the Caucasus.
My first visit to Armenia was a quick trip, heading back to Moscow to continue my work there for UWCSEA Admissions, which was part of my role as Director of Boarding at their East Campus. As I boarded my flight out of Zvartnots Airport, I remember thinking to myself "I had never thought I would come to Armenia, and I am definitely happy to have had the opportunity to visit this country." I most certainly did not think that I would be coming back three years later as a candidate for the selection of their third Head. Yet here I am today.
So how does this connect with school accreditation? While I am extremely proud of the achievements of the UWCD school community, especially having had to operate during the pandemic and war in our host country, any organisation that rests on its laurels is doomed to lose its edge. When it comes to schools, they have their own cycles governed by their school terms and their day-to-day revolves around students, their wellbeing and learning, the staff and their needs to support the students and their own professional development and wellbeing. In other words, there is a lot going on on the dance floor (following Professor Ron Heifetz much-quoted metaphor). However, it is essential that we do not become totally focused on the here and now and keep going up to the "balcony" (again, a virtual tip of the hat to Prof. Heifetz).
The process of school accreditation via CIS is focused on school improvement and a commitment to high-quality education with emphasis on student learning and global citizenship (from CIS). I link below from the CIS site the accreditation cycle as it conveys visually the commitment to keep moving from the dance floor to the balcony: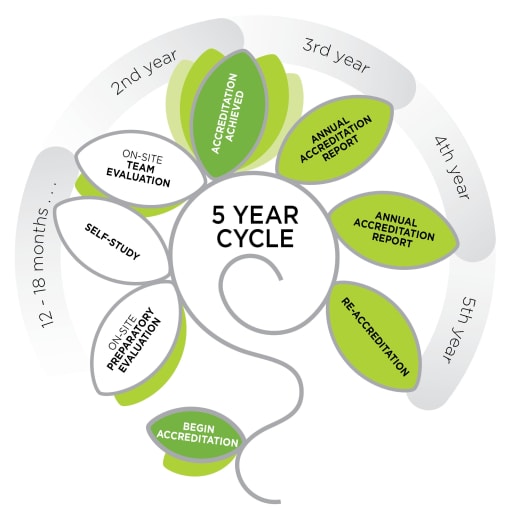 We are not aiming to achieve accreditation to then sit back and enjoy the recognition and being part of the group of slightly over 500 schools worldwide accredited by CIS. We are committing ourselves to a continuous journey of reflection of our practice, collaborative planning with the participation of all of our stakeholders in order to keep the school focused on improvement. In order to do so, we will be circulating shortly to students, parents and guardians, staff, governors, alumni, and UWC National Committees the CIS Community Survey, which will become our annual whole-school climate survey. But that is for another post, now I need to come down to the dance floor of my email inbox to the soundtrack of Daft Punk's Tron: Legacy.